A vibrating butt plug is a great addition to those interested in anal stimulation. Why you should consider getting one? Well some people like them, some people don't. They can give both men and women orgasms. Vibrating butt plugs stimulate the prostate in males and the a-spot or g-spot in females. There are additional safety measures one must apply when using butt plugs. First and foremost, lube is required and should be used liberally. Second, sanitation is even more important then with other toys for obvious reasons. Third, butt plugs should be avoided if you have hemorrhoids, anal fissures, or a prostate condition.
For Our Recommended Non-Vibrating Butt Plugs Click the Link Below
Our Top Picks
Hush by Lovense
Rating: 96/100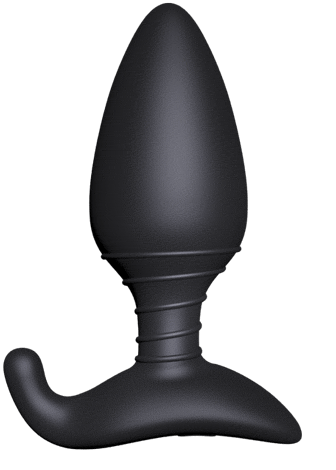 Like other Lovense toys, Hush does not disappoint. It comes with all the bells and whistles controlled by the Lovense App. This is the ideal butt plug for techies. Everything is controlled by Bluetooth from your phone. This is great for easy access to the controls. Better yet, vibration patterns are endless and can even sync to music. One other key feature is the spirals aid in removing the toy after long use. Available in two sizes for you preference with max diameters of 1.5″ and 1.75″. Additionally controlling from your phone allows for discreet usage in public. Furthermore, your partner can take over the controls through the app from anywhere around the globe. Additionally, it charges via USB magnetically and has over three hours of battery life. Also it is fully waterproof and backed by a one year warranty.
B-Vibe Rimming Plug
Rating: 94/100
The rimming action of the beads make this one a top pick in our book. Additionally, the rimming action has its own motor and the vibration at the tip has 6 intensity settings for each of its 6 vibrating patterns. Secondly, it comes equip with a wireless remote, which is a must for any powered anal toy. Furthermore, it can be controlled without the remote if you prefer. This device is splash proof and rated for shower use making it easy to clean. The vibrator is located at the tip for max enjoyment and is USB rechargeable and made of body safe seamless silicone.
We-Vibe Ditto
Rating: 93/100
The Ditto has all the bells and whistles in an anal vibe, wireless controller, app controlled, USB rechargeable, silicone, quiet, and 100% waterproof. Additionally, it is soft, flexible, and comfortable. Furthermore, the Ditto has 10 vibration modes for maximum enjoyment.
G-Vibe G Plug (Smallest Rechargeable Vibrating Butt Plug)
Rating: 92/100
Looking for a small quality vibrating butt plug? Check out the G plug, small yet simple with a lot to offer. This little thing has 6 speeds, rechargeable via magnetic USB, 100% waterproof, silicone and up to 4 hours of battery life. Additionally, it is great for beginners or long duration use.
Bump Rechargeable Anal Vibe
Rating: 91/100
The Bump Rechargable Anal Vibe is an excellent choice in requards to price and quality. We like that while it is affordable that it still delivers and touches on what most people are looking for in an anal vibe. It is USB rechargable, has 10 vibrating functions, silicone, 100% waterproof, and submersible.
With remote
Clear Jelly Butt Plug
Rating: 88/100
A great basic vibrating butt blug. Runs on (2) AAA batteries. Additionally it is 100% waterproof for use in the shower or bath. Furthermore it has multiple speeds. This is a great low cost option and the size is ideal for beginners and long use.